Niska-Game
Niska-Game is an annual fun-raiser where Niskayuna Middle School students get the opportunity to play in a life-sized board game based on Monopoly. High School students act as team coaches while local dignitaries and parents serve as judges and bank tellers. Local businesses sponsor team t-shirts and board pieces. Keep checking back for more information on the next Niska-Game, which will be held in the fall of 2019!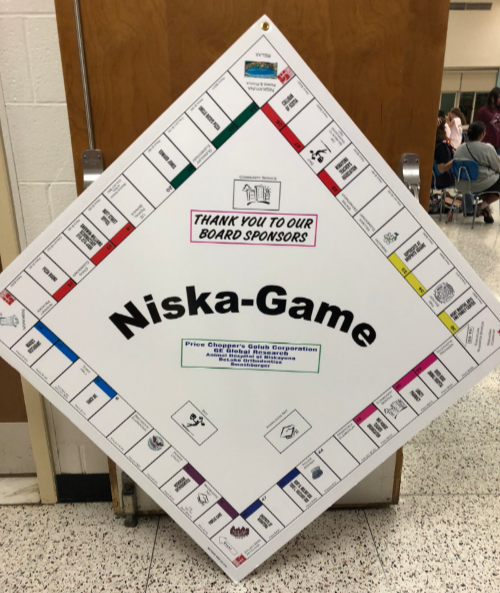 Niska-Game 2018
Niska-Game 2018 was a great success; thank you to all who participated! We had 8 teams play on Friday Night, a total of 48 Players!
Thank you also to all of our volunteers, coaches, and sponsors! 
The 2018 Team Sponsors include: 
One Group
Mario's Restaurant
DeLuke Orthodontics P.C.
Albany Med EmUrgentCare
Lange's Pharmacy
River Road Animal Hospital
The Animal Hospital of Niskayuna- Ron Scharf, DVM
Nisky Martial Arts and Family Center
Kent B Molino, DDS & Todd L Vaccaro, DDS
Sherwin Williams of Schenectady
Niskayuna Teachers Association NTA
Price Chopper's Golub Foundation
Time Square Clock Shop @ Clifton Park Center Mall 
The 2018 Board Sponsors include:
Edward Jones Investments
Niskayuna Co-Op
Dance Me
Nott Street Office
Hoskins Orthodontics
Blaze Pizza
1st National Bank of Scotia
Culligan of Scotia
Smash Burger
Judd Engraving
Supercuts
Special thanks to the following businesses who donated in kind:
Price Chopper
I Love NY Pizza
Homestyle Pizza
Pizza Bueno
Hannaford
The Daily Gazette- Your Niskayuna
Thank you to our Judges:
From Iroquois Middle School: Principal Mrs. Wyld!
From Van Antwerp Middle School: Assistant Principal Mr. Moskov!