President's Volunteer Service Awards (PVSA)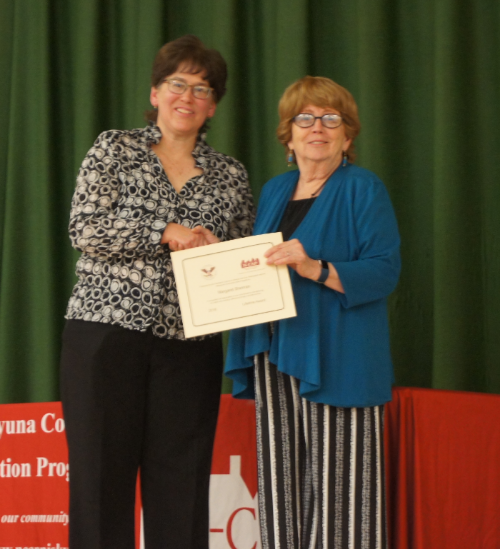 The President's Volunteer Service Award is issued by the President's Council on Service and Civic Participation on behalf of the President of the United States of America. The award recognizes the best in American spirit and encourages all Americans to improve their communities through volunteer service and civic participation. The award is given to individuals, families and groups that have demonstrated outstanding volunteer service and civic participation over the course of a 12-month period.
N-CAP hosted the 2019 awards' ceremony on Monday, May 20, 2019 , honoring volunteers who performed enough service hours the past year. This year's recipients are listed here. 
If you are interested in being recognized, please note that N-CAP recognizes volunteer work completed during the period of March 1st through February 28th. Our deadline for submission is March 10th. Any individual, family or group can receive Presidential recognition for their annual commitment to volunteer service. In addition, individuals who complete 4,000 or more hours of volunteer service over the course of their lifetime will be recognized with the President's Call to Service (Lifetime) Award. 
Due to COVID-19, the PVSA ceremony honoring 2019-20 recipients has been postponed. It has been decided that the 2019-2020 and 2020-2021 ceremonies will be combined.
 In the meantime, Sharon Wohl is still collecting 2019-20 paperwork, so if you have not turned yours in yet, it is not too late. Please contact Sharon at wohl.sharon@gmail.com for more info on this. Also, even though we are currently on a "pause" there are many things you can be doing to add to your 2020-21 PVSA  community service hours, which began on March 1. Good luck and stay safe.
To earn an award, individuals, families, and groups must keep a record of volunteer activities. (An easy way to do this is to keep a spreadsheet of your activities and attach it to the entry form.)
The award criteria are as follows:
| Hours by Award | Bronze | Silver | Gold |
| --- | --- | --- | --- |
| Kids (5-10) | 26-49 | 50-74 | 75+ |
| Teens (11-15) | 50-74 | 75-99 | 100+ |
| Young Adults (16-25) | 100-174 | 175-249 | 250+ |
| Adults (26 and older) | 100-249 | 250-499 | 500+ |
| Families and Groups* | 200-499 | 500-999 | 1,000+ |

President's Lifetime Achievement Award:  Individuals who have completed 4,000 or more hours in their lifetime.
* Two or more people, with each member contributing at least 25 hours.